#GSMK01 with traditional or customized laser engraving on blade
50 - 99 $15.25
100 - 249 $14.50
250 - 499 $13.95 500/more, call for additional savings
Add a second laser engraving on reverse side of blade + $1 per folder
For a custom engraving...a minimum of 100 knives and a one time $50 set up charge per side. No set up charge for traditional USMC or USMC BB engraving
USMC Birthday Ball or Mess Night folder knife with digi camo or solid black handle. Features a locking blade and push button closure. Your customized laser engraving available on this 3.25" blade. Total knife length is 7.25"
Overseas orders to military addresses welcomed
How to order, Click Here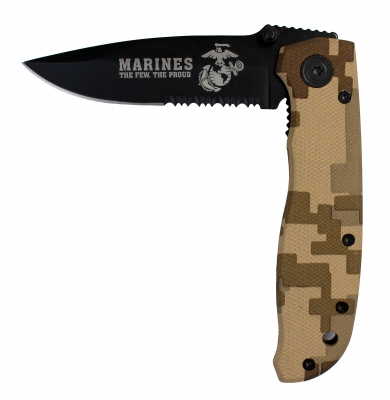 Above costs do not include shipping and set up charges
Please email: info@usmcdirect.com or call (773) 7752040 with your estimated quantity and shipping address for a complete cost quote.