Young Marines Printed T shirts
Printing on front and / or back of shirt. Quantity pricing below is in any combination of styles, colors, and sizes as long as the print is the same size and color.
Choose from Y.M. Shield, Seal and Swoosh insignias. Add unit I.D. at no extra charge. Or customize your own print(s)
Youth sizes: XS - XL, Adult sizes: S - 3XL
Premium JERZEE name brand T shirts
Shirt color options: black, red, navy, gold, royal blue, military green, gray heather, white. Choice of print color
#29M Adult sizes
Front or back one color print
13-23 $8.25
24-36 $7.20
37/more $6.35
#29B: Youth sizes: less $.35 per shirt
XXL +$2, XXXL +$3
Reduce costs 5% with check payment.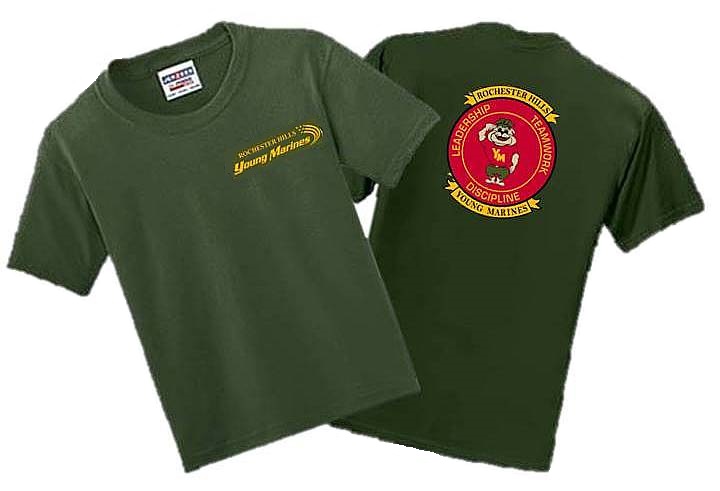 Customized 2, 3 & 4 color printing available. Call 773 7752040 or Email: info@usmcdirect.com for pricing and additional details
#29M Adult sizes Front and back one color print
13-23 $11.95
24-36 $9.95
37/more $8.30
#29B: Youth sizes: less $.35 per shirt
XXL +$2, XXXL +$3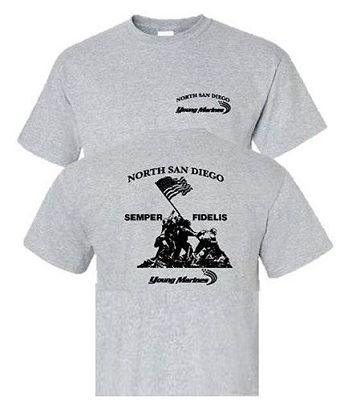 Costs include shipping but do not include recently imposed state sales taxes that vary from state to state. Please call with approximate quantity and shipping address for a complete cost quote. To order, call 773 7752040 or Email: info@usmcdirect.com