#11CG
Two tone metal "Rolex" look dress watch
Minimum order of 6 watches in any combination of above 2 watches.
For more information and to order, call (773) 7752040 or email us at: info@usmcdirect.com
#59CG
Dress watch with padded leather strap
Large gold EGA etched on scarlet ground - date - 30M water resistant - 2 year warranty. Manufacturer's suggested retail selling price for both watches $59.95 per watch.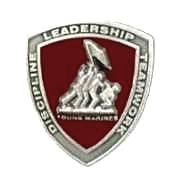 Young Marines Scarlet & Gold Semper Fi Wrist Watches
New fund raising item to present to MCL members and current or retired Marines