#11CG
Two tone metal "Rolex" look dress watch
Minimum order of 6 watches in any combination of above 2 watches.
For more information and to order, call (773) 7752040 or email us at: info@usmcdirect.com
#59CG
Dress watch with padded leather strap
Large gold EGA etched on scarlet ground - date - 30M water resistant - 2 year warranty. Current retail selling prices range from $61.99 to $79.99 per watch
Special Y.M. fundraising cost... $25 per watch that includes free shipping to addresses within the continental U.S.A.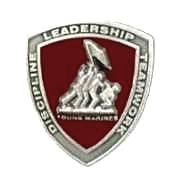 New fund raising item to present to supporters from your Marine Corps League and other current or retired Marines
Young Marines Scarlet & Gold Semper Fi Wrist Watches