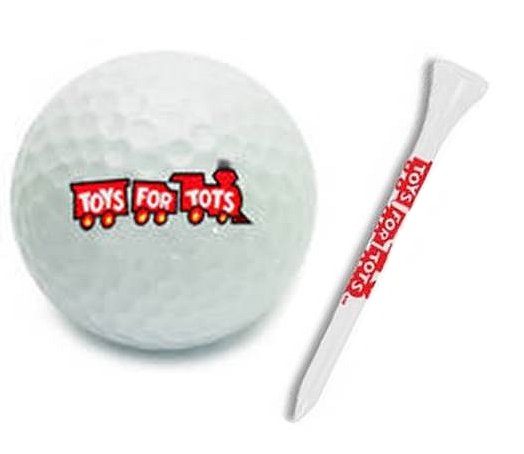 MTP:
1 5/8" diameter-1/16" ultra thin Marine Prayer combination challenge coin/large ball marker. Full color Marine Corps seal on one side with Marine Corps Eternal Father engraved on reverse side...$3.50 ea
Customized coins requiring additonal set charge are available
HC-20: Cap clip with magnetized ball marker... $2.95 ea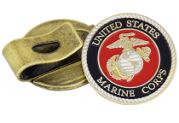 SR-333: Switchblade divot toolwith magnetized ball marker...5.95 ea
MP-57: Customized Poker chip with magnetized traditional or customized ball marker. Chip colors red, blue, green, black... $4.35 ea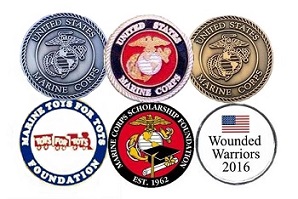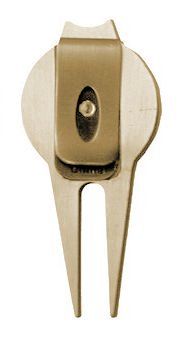 DT480: pro design divot tool in brass or nickel finish with magnetized ball marker...$3.75 ea
DT481 with built-in back clip...$3.95 ea
MLT388: Lite touch ergonomic divot tool in silver or brass finish with color thumb pad and magnetized ball marker...$5.35 ea
MLT387: with built-in back clip...$6.25 ea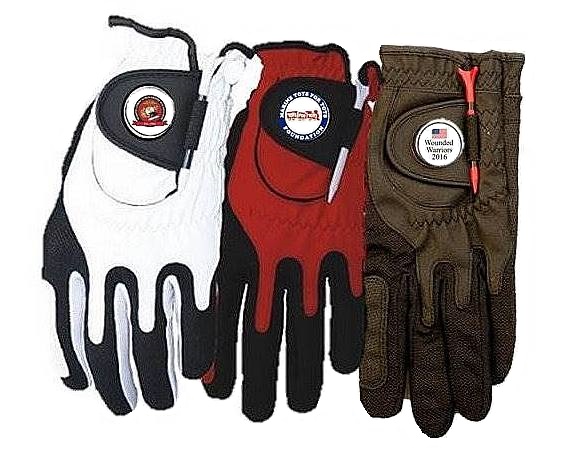 Wilson Ultra golf balls and 2 3/4" golf tees with Toys for Tots imprint.
Golf balls in 3 pack sleeves. Minimum order 12 dz golf balls $19.95 per dz
Golf Tees are bulk shipped with a minimum order quantity of 120 tees... $.25 per tee
Golf Tournament accessories for Marine Corps Scholarship Foundation, Tots for Tots, Wounded Warrior and other Military/Corporate golf events
Looking for state of the art golf accessories for your upcoming golf tournament? Check out our selection of premium divot tools, cap clip, and other golf accessories from Custom Golf Direct, Inc....all available with USMC, Tots Tots and MCSF traditional or customized magnetized (removable) ball markers. We also offer printed golf towels and Wilson custom golf balls & tees.
Wholesale orders only. Minimum order $250
Products shown below.
Costs for all of the items shown above do not include shipping or set up charges for customized ball markers, coins, or towels.
If available, no problem to use a tournament sponsor's FedEx or UPS account for shipping.
For more information and a complete cost quote, please email: info@usmcdirect.com or call (773) 7752040.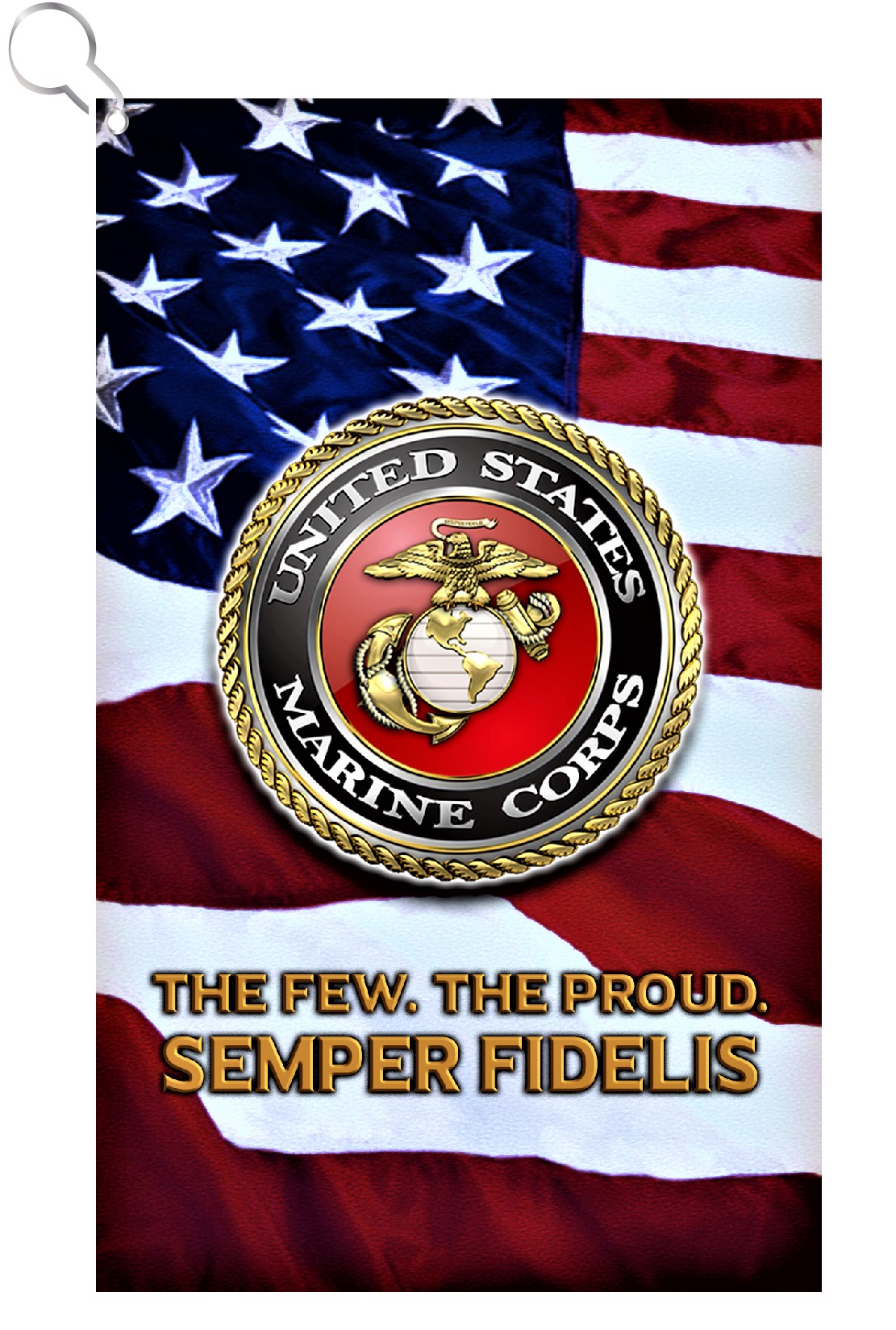 Full color custom print in soft micro fiber velour on one side with an absorbant solid white cotton terry on reverse side. Upper left side hook & grommet.
Minimum qty 72 towels. One time $75 set up for your full color customized print...$8.25 per towel
Please Note: there is no set up charge for the Corps & Country golf towel pictured above
CG01: New!
11" x 18" velour/cotton printed golf towel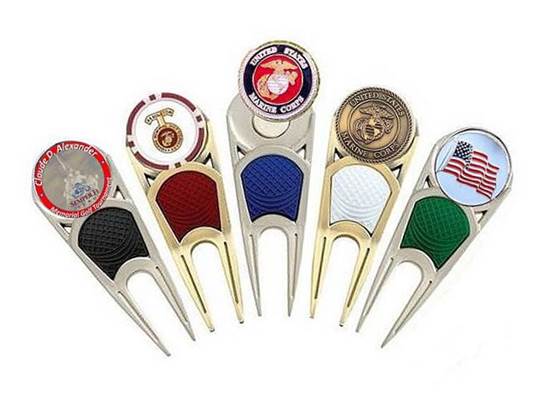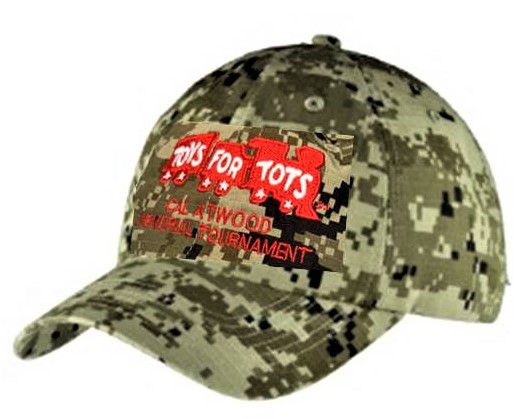 Custom Embroidered Camo Caps
Port Authority low profile unconstructed caps in premium ripstop cotton digi desert or woodland camo with choice of embroidery color.
Costs shown below include a customized 6000 stitch embroidery
Item: C925
24 - 49 caps $11.60 per cap
50 - 143 $ 9.60
144 / more $8.95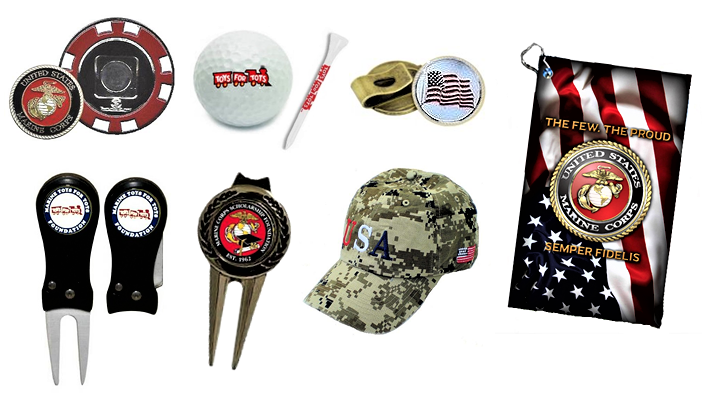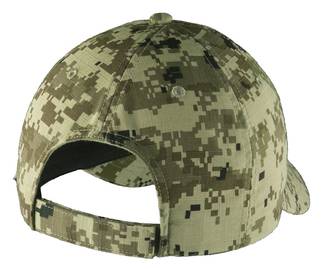 Rl-25:
Traditional USMC nickel size ball markers. Fit all divot tools and cap clip...$1.25 ea
Customized markers available
ZF 300: Zero Friction golf glove with magnetized ball marker.
One size fits all
Glove colors: white, red and black $10.95 ea